The John Fante Reader
Book #37 on my list was
The John

Fante

Reader.
An excellent intro to
Fante's
work, the
Reader
is a well collated survey of his writings including pieces from his novels, short stories and
correspondence
. The
NY Times
blurb on the back reads 'Either the work of John Fante is unknown to you or it is unforgettable" which I have to agree with. After reading this one I immediately went out and ordered
Ask The Dust
, so expect to see that one on my list soon. Must read for Kerouac fans.
Fante on Wikipedia
...or maybe that's Wikipedia on Fante?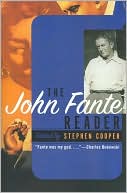 Labels: books