My Mistress's Sparrow Is Dead
Tome #13 was
My Mistress's Sparrow Is Dead: Great Love Stories, from Chekov to Munro
.
It's not every day you find short story collections that mix works of some of today's best writers: George Saunders, Miranda July, Raymond Carver, Richard Ford, etc. alongside great writers of the past such as James Joyce, William Faulkner, Anton Chekov and Vladimir Nabakov. It's a bold choice on the part of editor Jeffrey Eugenides and one he manages to pull off without coming across as a Schelleyian madman. If you're guessing at this point that this must be a McSweeney's project give yourself a big pat on the back. Proceeds from this one go
826 Chicago
and their sweet secret agent supply store.
Hard to pick favorite stories especially since I'd read some of the pieces previously but in terms of writers who piqued my interest for reading more, I'd go with Harold Brodkey whose two stories were both excellent.
Previously:
The Book of Other People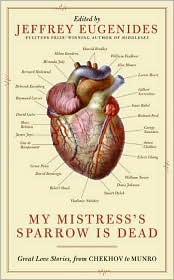 Labels: books, george saunders, mcsweeney's, miranda july, raymond carver, richard ford