The Mulching of America
Book #32 of my reading list was Harry Crews'
The Mulching of America
.
A sort of modern update on Willy Loman, Crews'
The Mulching of America
is a novel about Hickum Looney a door-to-door soap salesman working his way up the corporate ladder. Crews brings in a cast of crazy characters including a guest appearance by Russell Muscle of
Body
fame. Not my favorite Crews novel, but a beauty nonetheless.
"Everybody that speaks the truth that's close to the bone is pretty nearly always talking po'try" - Hickum Looney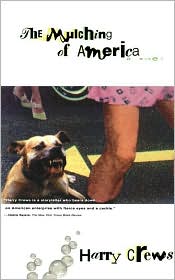 Labels: books, harry crews