Speaking With The Angel
Book #51 of my reading list was
Speaking With The Angel
, a short story collection edited by Nick Hornby.
My standard review for short story anthologies is that they're usually a mixed bag: a couple of gems, a bunch of so-so stuff and a few stinkers. This is one of the rare collections though that's pretty darned solid throughout. I had a few faves, Hornby's "NippleJesus", Dave Eggers' "After I Was Thrown in the River and Before I Drowned" and Roddy Doyle's "The Slave", but even
Colin Firth's
piece is surprisingly good (who knew he was a writer?).
Why I Read this One
Main thing that drew my attention on this one was the quality of writers included (including Eggers who is a fave and an early work from Zadie Smith). Hornby also is a voracious reader and his "Stuff I've Been Reading" column in
The Believer
is always intriguing so that also increased my faith that he'd put together a great collection.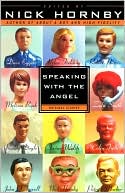 Labels: books, dave eggers, nick hornby