Pimp
I have fallen woefully behind on my book blogging again. Will attempt to remedy that with some quickfire reviews of what I've been reading.
Book #4 on my reading list this year was Iceberg Slim's
Pimp: The Story of My Life
. This is not surprisingly the "true" story of Iceberg's life as a pimp. Interesting factoid: did you know that Iceberg Slim has sold more books than any other African-American author except Alex Haley? Look it up.
Why I Read This One
Clearly because I'm big pimpin' spendin' G's. Actually picked this one up because it's often referenced as one of the classics of underground-lit.
Iceberg on Wikipedia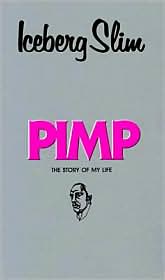 Labels: books