The Best American Non-Required Reading 2008
Book #5 on my reading list was
The Best American Non-Required Reading 2008.
Last year's
BANRR
was a big hit for me, so I came into this year with pretty high expectations. Unfortunately I didn't find this one nearly as compelling as last year. There are still some winners sprinkled throughout, but the overall quality just isn't what I was hoping for. I guess all those non-required authors had a down year last year. The big winner for me by far was
George Saunders'
excellent, excellent, excellent "Bill Clinton, Public Citizen".
Laura van den Berg's
"Where We Must Be" also stood out.
Why I Read This One

I'm a big fan of the
series
so picking this one up was a no-brainer.
George Saunders interviews Bill Clinton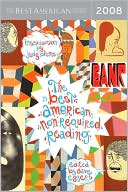 Labels: best american, books, george saunders